Ndamukong Suh reportedly cancels visit with Raiders
Ndamukong Suh is inching closer to making a free agency decision, and it sounds like you can cross the Oakland Raiders off his list. Suh was scheduled to visit with the Raiders on Wednesday, but Ian Rapoport and Michael Silver of NFL Network report that the defensive tackle ended up cancelling the meeting. Free agent DT Ndamukong Suh's visit to the #Raiders is now off, sources tell me and @MikeSilver. He's back home and not likely to make a decision today. The #Rams made a strong impressio...


Sam Darnold impresses scouts by throwing in rain (Video)
Sam Darnold chose not to throw at the NFL Scouting Combine earlier this month, and many thought the decision would come back to haunt him when rain was forecast for his pro day at USC. As it turns out, the weather may have helped. Darnold threw passes in front of scouts on Wednesday in a steady rain, and the conditions appeared to have very little impact. It was pouring rain, but that didn't stop Sam Darnold from throwing dimes at his Pro Day. pic.twitter.com/Ah1R8NLlmP #SportsGameApp &md


Stoneman Douglas hockey team playing with a purpose
The Eagles won a Florida state title to qualify for nationals. Along the way, they have received support from the NHL and the Florida Panthers -- and in turn sought to help lift the Parkland community devastated by a mass school shooting.


Sean Miller says he is not a candidate for Pitt head coaching job
The University of Pittsburgh may have interest in Sean Miller becoming the school's next men's basketball coach, but apparently that interest is not mutual. On Wednesday, Miller released a statement saying he is not a candidate for the Pitt job. Sean Miller to Pitt – NOT a thing pic.twitter.com/OcdaSZj00Y — Michael Lev (@MichaelJLev) March 21, 2018 A previous report claimed Miller had interest in the job and had discussed it with Pitt athletic director Heather Lyke, bu


Report: Sean Miller interested in Pitt job, has discussed it with AD
With reports swirling that Dan Hurley could either take the UConn job or remain at Rhode Island for at least another season, officials at Pittsburgh could have their eyes on a much bigger name to fill their head coaching vacancy. Craig Meyer of the Pittsburgh Post-Gazette reports that Arizona coach Sean Miller has discussed the Panthers job with Pitt athletic director Heather Lyke. Miller is said to have interest in the job and obviously has a terrific track record, but his current program has


Jets reportedly asked Browns about trading for No. 1 pick
Before the New York Jets landed the No. 3 overall pick in the NFL Draft via trade, they were reportedly looking to make an even bigger splash. According to Manish Mehta of the New York Daily News, the Jets had asked the Cleveland Browns about acquiring the No. 1 overall pick, but were obviously unsuccessful. The Jets instead ended up trading several picks for the No. 3 overall selection once it became clear that free agent quarterback Kirk Cousins was going to turn them down. It's unclear


NFL Competition Committee unveils proposed new language for catch rule
After heavy consultation, the NFL Competition Committee is unveiling their new proposed catch rule with simplified language. Under the proposal, the usual requirements of control and two feet down in bounds remain, while also requiring a "football move" such as reaching for the line to gain or taking a third step. After much deliberation & input from coaches, players, @NFLLegends, & club executives, the @NFL Competition Committee will recommend the following language simplifying th


World Series? How About 9 Reasons the Yankees Might Miss The Playoffs
The Yankees are not as invincible as they may look By George Kurtz All the talk during the offseason and spring training has been about how good the Yankees are and how they are a cinch not only to make the playoffs but also to win the World Series. Well you know, this talk may be a bit premature. I'm here to tell you that the Yankees aren't a mortal lock to make the playoffs and I'm here to tell you why. Justin Verlander is right: The Astros are the best team in the American League, if n...


Penny Hardaway wants to take on toughest competition at Memphis
Penny Hardaway is looking to return the Memphis basketball program to its days as a perennial NCAA Tournament presence, and one of the ways he hopes to do that is by taking on some of the best teams in the nation. Hardaway, who agreed to replace Tubby Smith this week as the next coach of the Tigers, said one of his first orders of business will be calling coaches like John Calipari and Mike Krzyzewski in an attempt to schedule games against their teams. "I want to play the big boys. I want t...


Report: Panthers bidding reaches $2.5 billion
Bidding for the Panthers has reportedly reached $2.5 billion, pushing Fanatics owner Michael Rubin -- and potential minority partners Stephen Curry and Sean Combs -- to the sideline for now.


Hollywood and Baseball: Together Forever
Cinema and Sluggers Have Always Drawn Interesting Parallels By Cam Giangrande Watching the Academy Awards earlier this month it occurred to me how similar baseball is to the movie industry. Each industry is, at their heart, entertainment. Each industry has extremely talented people who more often than not, are self absorbed and out of touch. And each industry is big business. I wanted to see just how close these two outlets resemble each other, and I was amazed. In 2017, the movie industry produ


Marshawn Lynch restructures contract to remain with Raiders
Marshawn Lynch is going to get an opportunity to prove that he still has enough left in the tank to be an important piece of Jon Gruden's offense, but the veteran running back may have to take slightly less money to do it. Tom Pelissero of NFL Network reports that Lynch has agreed to a restructured contract with the Raiders that could amount to a slight pay cut but converts more of the 31-year-old's deal to guaranteed money. #Raiders RB Marshawn Lynch restructured his contract Satu


Drew Brees, Anthony Davis expected to be pallbearers at Tom Benson's funeral
New Orleans Saints and New Orleans Pelicans owner Tom Benson died on Thursday at age 90, and two of the most recognizable faces in his franchises' history are expected to be a part of his funeral proceedings. According to Jeff Duncan of The Times-Picayune, Drew Brees and Anthony Davis are expected to be among the pallbearers at Benson's funeral on Friday. #Saints quarterback Drew Brees & #Pelicans forward Anthony Davis are expected to be among the pallbearers at Tom Benson's fune...


Billboard bashing Kansas football goes up in Topeka
Kansas football has been one of the worst programs in the country for the better part of the last decade, and Jayhawks fans are becoming more animated in expressing their disgust over it. Earlier this week, a billboard went up in Topeka bashing Kansas football and highlighting a quote from ESPN's Dan Le Batard, who called the program "the most incompetent thing I've seen in major sports." @nate_bukaty @bobfescoe With underdogs like @UMBC_MBB and @RamblersMBB turning it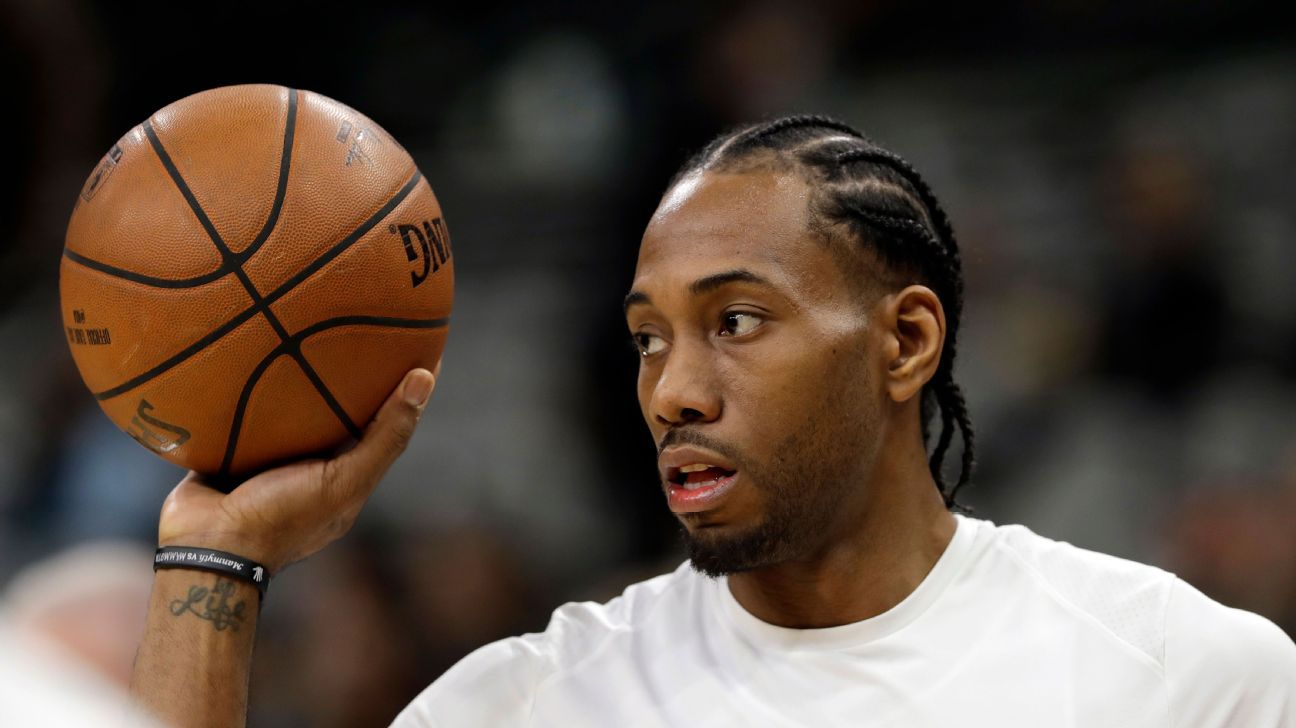 Ginobili on Leonard: 'He is not coming back'
Spurs guard Manu Ginobili says the team was fooled by the media into thinking injured forward Kawhi Leonard would return this season. The team has "to fight without him," Ginobili says.


Decoding the sneaker scribbles of NBA stars
Take a close look at the shoes of LeBron James, Stephen Curry and Kyrie Irving and you'll see handwritten messages. But what do they mean? We go behind the Sharpie to break it down.


Bilas: This Sweet 16 is neither unprecedented nor revolutionary
OK, let's get a few things straight: A revolution is not happening in college basketball. Nor is what is happening in this NCAA tournament unprecedented. We've had crazier tournaments. What isn't crazy is The Bilastrator's order of the 16 remaining teams.


Barry Bonds' legacy? Always wanting more
In ESPN The Magazine's ranking of the most dominant 20 athletes in sports, Tim Keown shares his lasting memory of Barry Bonds, baseball's home run king and un-asterisked captain of controversy: Not the bombs, but the desperation to create a legacy.


Ranking the ultimate lineups in NCAA men's hockey history
With the 2018 tournament upon us, we look at the legacy of college hockey's top programs -- some involved in this year's bracket, some in a down cycle -- and rank the ultimate lineups for them, based on the players' success at the NHL level.


The champs* are here: A new era dawns at UCF
Josh Heupel takes over a team that dominated the standings, with a 13-0 record, and the headlines, with a self-proclaimed national title. How do the first-year head coach and star QB McKenzie Milton keep things rolling?


Fantasy baseball mock draft: 10-team roto
Mock drafts are a great chance to try out new strategies or take new approaches. In our latest mock, the injury to Justin Turner shifted the ranks at third base and allowed one drafter to see how he felt about his team with an injured Turner on board.


Floyd Mayweather looking to buy soccer club Newcastle United, sign Cristiano Ronaldo
Floyd Mayweather Jr's post-boxing escapades may be taking him into the world of soccer next. In a recent print interview with British newspaper The Daily Star Sunday, the retired five-division champion expressed interest in buying Newcastle United of the Premier League. "I love Newcastle. Those guys like to party as hard as any city I have been to anywhere in the world," said Mayweather, according to Brian Campbell of CBS Sports. "I met some of the players last year and


NBA scout compares Trae Young to Jimmer Fredette
Oklahoma guard Trae Young has already drawn widespread comparisons to Golden State Warriors star Stephen Curry for his sweet shooting and overall offensive versatility. But one NBA scout believes that Young could go in the other direction just as easily. A feature by Stefan Bondy of the New York Daily News that was published on Tuesday quoted an anonymous Eastern Conference scout who compared Young to one of basketball's most infamous draft busts. "Young's the best passer I


George excited to hear of Hayward's progress
Thunder forward Paul George, who has lent support from afar throughout Gordon Hayward's recovery from a gruesome opening-night ankle injury, said he's excited to hear about the Celtics forward's progress.


Deion Sanders embarrassed himself in Twitter exchange with Kevin Byard
Deion Sanders completely embarrassed himself on Twitter Tuesday during an exchange with Kevin Byard. Sanders apparently had praised the Houston Texans' signing of Tyrann Mathieu, terming the Honey Badger the best safety in football. .@DeionSanders is a big fan of the @HoustonTexans' latest DB addition : 21st & Prime pic.twitter.com/yodMhTJ9hF — NFL Network (@nflnetwork) March 20, 2018 Byard, who was a first-team All-Pro safety last season with the Titans, was incredulous and